Sodexo's hunger fighting team includes employees, clients, customers, vendors, youth leaders and carefully selected nonprofits, because childhood hunger is a problem too big for one organization to solve alone.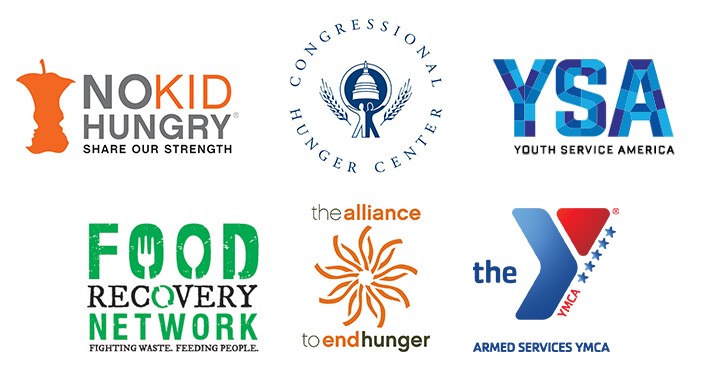 Share Our Strength's No Kid Hungry® believes no child should go hungry in America. But 1 in 6 kids will face hunger this year. No Kid Hungry is ending childhood hunger through effective programs that provide kids with the food they need. This is a problem we know how to solve. No Kid Hungry is a campaign of Share Our Strength, an organization working to end hunger and poverty. Sodexo Stop Hunger Foundation has supported Share Our Strength, the organization behind the No Kid Hungry campaign, since 2003. Our support includes funding nutrition programs and youth engagement activities, connecting children across the country with nutritious meals, creating the youth activation site, Generation No Kid Hungry and supporting the Youth Ambassador program.
Youth Service America (YSA) supports a global culture of engaged youth committed to a lifetime of meaningful service, learning, and leadership. Working with partners around the world, YSA helps young people find their voice, take action, and make an impact on vital community issues. Our work with YSA includes a national grant program for youth-led projects aimed at fighting hunger and creating resources and trainings for youth, educators, and non-profit organizations that support youth engagement activities focused on child hunger.
Food Recovery Network (FRN) empowers individuals, communities and food businesses to change the way they view and handle surplus food. FRN unites college students and business owners to fight food waste and hunger by recovering surplus perishable food and donating it to people in need. FRN offers a simple, sustainable, and scalable solution to both food waste and hunger. Sodexo Stop Hunger Foundation was one of FRN's first funders and continues to be an important partner. Sodexo Stop Hunger Foundation's support provides FRN the ability to coach and mentor existing chapters, create new resources for student leaders, provides food safety expertise and supports the overall growth of the movement by ensuring FRN can bring new chapters into the network.
Food Recovery Verified (FRV) is a third party food recovery verification program started by FRN for businesses and events who recover surplus food at least once a month and donate it to local nonprofits. Food Recovery Verified businesses and events are recognized as leaders in their communities as they fight against food waste and hunger. Businesses can apply to receive tax benefits for their food donations. FRN also provides a network of support for businesses and events to improve their food recovery process.
Armed Services YMCA (ASYMCA) strengthens military families by providing programs and services to the young men and women of all five armed services: Army, Marine Corps, Navy, Air Force, and Coast Guard. The ASYMCA supports military families through programs focused in three areas: Youth Development, Healthy Living and Social Responsibility. In 2018, they engaged more than 225,000 individuals in our programs and delivered nearly 1 million points of services to junior enlisted Soldiers, Marines, Sailors, Airmen, Coast Guardsmen and family members at 200 service centers in 18 states.
Alliance to End Hunger is a coalition of over 90 members with a shared conviction for addressing hunger by fostering strategic partnerships, building political commitment, supporting hunger free communities initiatives, and advocating for the National Alliance Partnership Program. Our work with the Alliance to End Hunger involves developing a youth advocacy strategy in an effort to end hunger.
Congressional Hunger Center is a nonprofit that works to make issues of domestic and international hunger a priority to policy makers in the U.S. government, and to raise a new generation of leaders to fight against hunger and poverty. Sodexo Stop Hunger Foundation helps fund the Emerson National Hunger Fellows Program, a social justice program that trains, inspires, and sustains leaders.