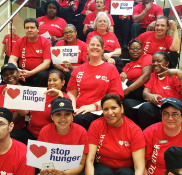 During Servathon, Sodexo employees, friends, family and youth around the world join forces to fight hunger in their local communities. Servathon is Stop Hunger's largest annual event that takes place each April. In 2016, 37,400 volunteers participated in service activities, engaging 158 nonprofit partners.
At Sodexo, we value employee engagement and are proud to strengthen our local communities through service, skilled volunteerism and activities that go beyond food aid, and fundraising. Participating in Servathon is easy and it's a great way to engage local stakeholders.
Get involved by fundraising for Sodexo Stop Hunger Foundation, volunteering at a food bank, doing a healthy cooking demonstration, providing nutrition education, having a food drive, or donating meals.
2016 Highlights
158 NGO Partnerships
37,400 Volunteers
57,540 Hours Served
346,047 Meals Donated
$68,991 Raised for Hunger Relief
Download and share the infographic with #EngagingCommunities.