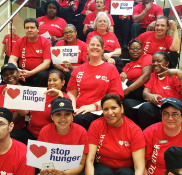 Servathon is Sodexo's largest global Stop Hunger event. Every April, Sodexo empowers its employees around the world to join forces, engage their teams and fight hunger in their local communities.
In the U.S., Sodexo mobilizes its employees to help the 11 million children who are hungry now and invests in actions that help prevent children from being hungry again tomorrow. We do this through service, skilled volunteerism, fundraising and activities that go beyond food aid.
Participating in Servathon is easy and a great way to involve clients, friends, family and youth.
---
2019 U.S. Servathon Results
In April 2019, we engaged 155 nonprofit partners and 18,571 volunteers in service activities, such as serving meals, sorting and packing food, recovering food and going beyond the meal by planting community gardens, teaching about healthy eating and food safety and giving healthy cooking demonstrations.
$60,347 Raised for Hunger Relief