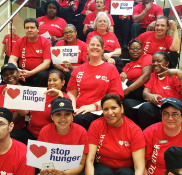 During Servathon, Sodexo employees, friends, family and youth around the world join forces to fight hunger in their local communities. Servathon is Stop Hunger's largest annual event that takes place each April.
At Sodexo, we value employee engagement and are proud to strengthen our local communities through service, skilled volunteerism and activities that go beyond food aid, and fundraising. Participating in Servathon is also a great way to engage local stakeholders.
In April, 28,635 volunteers participated in service activities, engaging 152 nonprofit partners, such as serving meals, sorting and packing food, recovering food, and going beyond the meal by planting community gardens, teaching about healthy eating and food safety, and giving healthy cooking demonstrations.
In addition, Sodexo employees provided support to some of the 124 youth-led and Sodexo Stop Hunger Foundation-funded Global Youth Service Day projects that also took place in communities across the country during April.
2017 U.S. Servathon Results
152 NGO Partnerships
28,635 Volunteers
72,563 Hours Served
215,036 Meals Donated
$39,854 Raised for Hunger Relief
Download and share the infographic with #EndingHunger.
---

Participation is easy… just two simple steps
1. Select an activity and have fun.
Fundraise for Sodexo Stop Hunger Foundation. Sign up for payroll giving. $1 per paycheck makes a difference.
- Recruit five employees to enroll in payroll giving through the online enrollment site or visit Employee Self Service or the Voluntary Deduction page.
- Have a Stop Hunger Hearts Fundraiser.
Volunteer. Lend your talents and time to a local partner organization. Serve meals at a shelter; sort food or pack food at a food bank; start recovering food. Go beyond the meal: plant a community garden; teach about healthy eating or food safety; do a healthy cooking demonstration. Search for hunger-related activities at Volunteer Match. Find a food bank.
Engage Youth. Youth engagement is important to ending hunger in America. Reach out to a young person in your life, including your kids and their friends, grandkids, nieces and nephews, Sodexo customers in K-12 and college, or connect with a youth group, YMCA or Boys and Girls Club and get involved.
2. Share your activity.
Enter the Stop Hunger Photo Contest.
Recognize efforts with a certificate or a Sparx ecard.
Report results by May 22. Sodexo employess should enter all service activities into the online results survey.