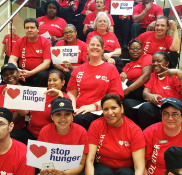 During Servathon, Sodexo employees, friends, family and youth around the world join forces to fight hunger in their local communities. Servathon is Stop Hunger's largest annual event that takes place each April.
At Sodexo, we value employee engagement and are proud to strengthen our local communities through service, skilled volunteerism and activities that go beyond food aid, and fundraising. Participating in Servathon is also a great way to engage local stakeholders.
Last year, 37,400 volunteers served 57,540 hours and 346,047 meals, and raised $68,991. This year, we're aiming even higher because there are still 42 million at risk of hunger in America.

Participation is easy… just two simple steps.
1. Select an activity and have fun.
Fundraise for Sodexo Stop Hunger Foundation. Sign up for payroll giving. $1 per paycheck makes a difference.
- Recruit five employees to enroll in payroll giving through the online enrollment site or visit Employee Self Service or the Voluntary Deduction page.
- Have a Stop Hunger Hearts Fundraiser.
Volunteer. Lend your talents and time to a local partner organization. Serve meals at a shelter; sort food or pack food at a food bank; start recovering food. Go beyond the meal: plant a community garden; teach about healthy eating or food safety; do a healthy cooking demonstration. Search for hunger-related activities at Volunteer Match. Find a food bank.
Engage Youth. Youth engagement is important to ending hunger in America. Reach out to a young person in your life, including your kids and their friends, grandkids, nieces and nephews, Sodexo customers in K-12 and college, or connect with a youth group, YMCA or Boys and Girls Club and get involved.
2. Share your activity.
Enter the Stop Hunger Photo Contest.

Recognize efforts with a certificate or a Sparx ecard.
Report results by May 22. Sodexo employess should enter all service activities into the online results survey.
Stop Hunger Photo Contest:
April 1 - May 10 Submission Phase:

Sodexo employees can submit one photo (

individual

or

group

)

that shows their volunteer activity with a caption describing how the activity supports Servathon. Post the photo on Facebook and tag Sodexo Foundation. Don't have a Facebook account? Employees can submit a photo and caption to Anna Lourie. All photos must be submitted by 11:59 pm ET on May 10. Please note that no photo collages will be accepted. To be eligible, activity results must be entered into survey by May 10.
May 11-14 Voting Phase: Valid entries will be featured in a photo album on Facebook for anyone to vote for their favorite photos. Between May 11 and 14, visit the Sodexo Foundation Facebook page to vote. A combination of the most 'liked' photo entries and a panel of judges will determine the winners.
May 15-17 Judging Phase: On May 17, up to three entries will win grants from Sodexo Stop Hunger Foundation (thanks to Servathon partner, French's) for the hunger charity of their choice.
Prizes:
1st place: $3,000 grant
2nd place: $2,000 grant
3rd place: $1,000 grant
Review the complete Official Rules.